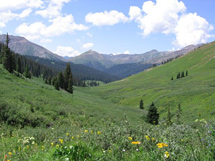 Rocky Mountain Biological Laboratory

Arts and Culture

Click on client to learn more.

"

Afghanistan: A Fragile Peace"

Susan Ives Communications conducted a media campaign for this PBS documentary on the difficulties facing Afghanistan as it tries to transform into a civil and democratic society. Results included major articles in the San Francisco Chronicle and Los Angeles Times.



California Council for the Humanities

Susan Ives Communications conducted statewide media outreach showcasing Youth Digital Filmmakers. The program enabled California teens to create films exploring their lives and communities. Coverage included full-page article in the San Francisco Chronicle and Contra Costa Times.


Geography of Hope

Founded in 2008, the acclaimed Geography of Hope conference is one of California's exceptional literary and arts events. Held in west Marin County, the conference is a showcase for leading writers whose work explores the relationship of people and nature. Susan Ives Communications helped produce and publicize the conference three years running. Coverage included the New York Times and National Public Radio.


Heyday Books

Susan Ives Communications advised this award-winning independent publisher and cultural institution on communications and fundraising, and developed marketing materials for publications including News from Native California, a Guide to the Birds of the Sierra Nevada, and a History of San Francisco Bay.

"Susan Ives understands the big picture, which she defines with wonderful and liberating clarity; she is equally cogent on the practical means for achieving that vision. Whether the question is "how do we position ourselves for the next few years" or "how do we phrase this to appeal to funders," I have turned to her for advice and never been less than enlightened by what she's provided. We've grown tremendously, not only in size but in strength and focus, and we owe much of this to Susan's experience and guidance."

Malcolm Margolin, Publisher, Heyday Books



National New Deal Preservation Association

The National New Deal Preservation Association promotes the enduring legacy of the visual and performing arts, literature, crafts, structures and environmental programs of the New Deal, which created jobs for millions of Americans during the Great Depression. Susan Ives Communications produced online communications to increase membership and fundraising.



Point Reyes Books

Susan Ives developed the Web site pointreyesbooks.com, for this independent bookstore north of San Francisco. More than a bookstore, Point Reyes Books is a community hub, hosting conferences, workshops, and performances that support local literacy, the arts, and the environment.